i was in anthropologie at lunch today and found so many interesting looking books.  i definitely want some of these.
these cloth-bound penguin classic books are very appealing.  they're beautiful…too bad i'm not especially fond of any of these.  i really like the designs for the children's classics:
these titles are available at anthropologie for $16.99 each: anne of green gables, the secret garden, the adventures of robin hood, peter pan, the adventures of huckleberry finn, and the wind in the willows.  maybe i should get the secret garden…i think i enjoyed that when i was young; i actually already have a copy but this one's so much nicer.  actually, screw that, i just looked these up on amazon.  as expected, they're cheaper and have more titles.  i love the fairy tales from hans christian andersen…even if they have sad endings.
there's also a series with classic literature for the older audience.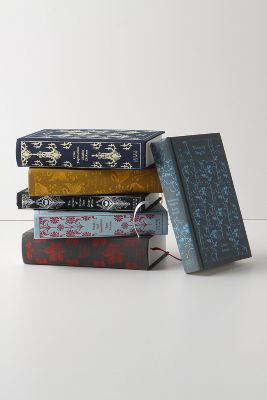 anthropologie has sense & sensibility, little women, the sonnets & a lover's complaint, wuthering heights, and pride & prejudice.  and of course i'm off to see what else is available as none of these titles thrill me either.
my first new york: early adventures in the big city looked interesting too:
it's a collection of tales recounted by notable figures (actors, artists, etc.) of their experiences in the big apple.
another one that got added to the wish list is a personal style book by amanda brook with a foreword by diane von furstenberg called i love your style: how to define and refine your personal style.
i didn't actually see these in store but they looked promising:
and since we're on-topic, i finally got my own collection of the harry potter series.  harry potter is one of my favorite books and i have never had any copies of my own.  i started reading it in early high school and borrowed them from friends.  since i started reading when the series was still new, i had to wait each year for the next sequel and often forgot the details of previous books.  so it's been a longtime personal goal to reread the series back to back, which i did this past christmas holiday.  and i purchased this box set but haven't actually read any yet:
these are the british press version so it has the original spelling and text.  this is a special edition that comes with the original illustrations and an embossed signature from j.k. rowling.  it's interesting to note the subtle differences between the bloombury and scholastic editions.  for example, did you know the original title for the first book is actually harry potter and the philosopher's stone?  they changed it to the harry potter and the sorcerer's stone in the us.  apparently they thought that kids wouldn't be interested in something with philosophy in the title.